Cornrows - special braids for both children and adults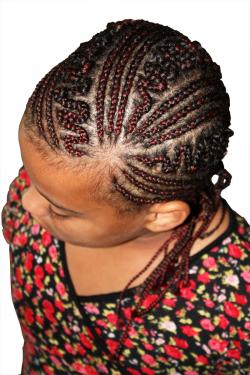 Many of our customers just love to see their kids with
braids
.
These
braids
, more commonly known as cornrows, are realized in just two hours, and give your child that special fancy look.
The
braids
are also very practical, as they stick to the head, hence not dropping in front of your child's eye all the time. These cornrows really are so fitting for your child.
Just a little while ago African Hair did not provide images of this wonderful hairstyle. Also, we didn't have large images of children on our site.

All that has changed now: on request of many we now have some great homemade examples. These two little customers were o so willing to show to the world their lovely haircuts.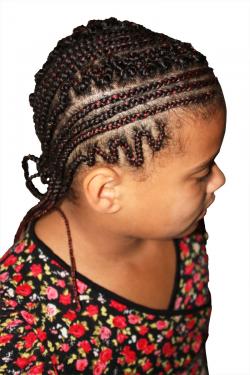 Both children have a so-called zigzag model, one with a shape of three straight lines, the other with a special twist.

Varying in techniques makes it possible to make so many different styles.

Idea's or nice creations of your own, to get that very special exclusive look? Or do you have a nice photo in a book or from the Internet? Just let us know, we will create almost any look.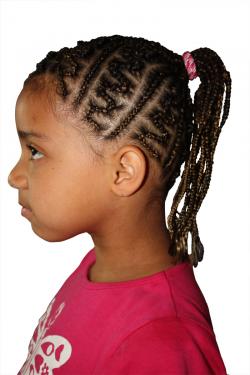 Also interested in these
braids
? Want your children to have some? Or maybe you want to look amazing with these
braids
?
Just
contact
us. And for your information: these cornrows will last easily for a month and a half up to two months, both for you and your children. While we offer cornrows starting at € 30,- for children, and a cheap € 40,- for adults (excluding artificial hair).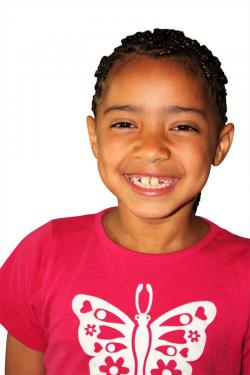 Affiliate producten
Redken Structure Wax 17



Voor normaal tot vet haar.

Milde reiniging en vitalisatie van het haar en de hoofdhuid.

Voor dagelijks gebruik.


Voor: € 17.00



meer info

Detangler 1000 ml





De oplossing voor droog en dof haar!

Detangler is een gewichtloze, romige lotion die onmiddelijk ontwart en knopen direct verwijdert.

Vermindert beschadigingen, die de oorzaak zijn van gesleten punten.

Gewichtsloze lotion verzacht de cuticula en geeft natuurlijke body aan uw haar.

Ideaal in combinatie met Moisturizing Shampoo en Moisturizing Treatment.






Voor: € 42.00



meer info

Matte Grip





JOICO Matte Grip Texture Cream is een medium hold cream speciaal geschikt voor fijn haar. JOICO Matte Grip Texture Cream houdt het haar gezond en maakt het haar weer handelbaar. JOICO Matte Grip Texture Cream is makkelijk uitwasbaar en heeft een heerlijke geur. JOICO Matte Grip Texture Cream is zeer zuinig in gebruik.




Voor: € 19.00



meer info

L'Oreal Professionnel Liss Ultime Masker



Voor normaal tot vet haar.

Milde reiniging en vitalisatie van het haar en de hoofdhuid.

Voor dagelijks gebruik.


Voor: € 10.00



meer info

Masque Oléo-Relax Slim





Omschrijving:

Volume verminderend en gladmakend masker.

Haartype:

Voor droog. dik en weerbarstig haar.

Toepassing:

Was het haar met 8ain Oléo-Relax.

Het haar handdoekdroog maken.

Lok voor lok verdelen en doorkammen.

10 à 15 minuten laten inwerken.

Goed emulgeren en zorgvuldig uitspoelen.

Enkel gebruiken op de dag van de salon behandeling Cure Oléo-Relax Slim indien het haar zeer gevoelig is.
 

Resultaat:

Het haar heeft minder volume.

Het haar is beschermd tegen toename van volume.

Het haar is handelbaar, soepel en perfect glad.

Technologie:

Cera-Trioleum:

Ceramide: Versterkt de interne structuur van het haar.

Trio van olieën (pracaxi, abrikoos, camelina): maakt de haarvezel glad en vermindert het volume van het haar door het aanbrengen van een waterafstotend laagje.




Voor: € 32.25



meer info