Thin braids make our model "Jay" look beautiful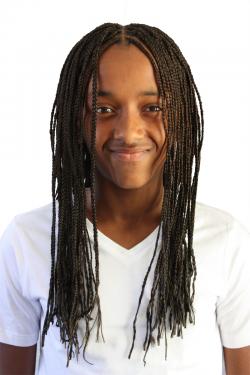 Our model "Jay" has chosen this particular African haircut: thin
braids
.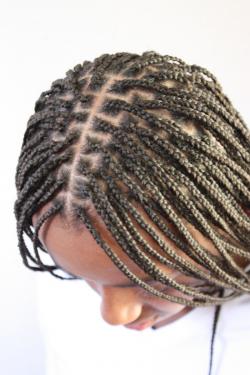 Our model "Jay" has the
braids
closely applied to the head. As you can clearly see on the images, these
braids
are of professional quality.
During the braiding, we show you the progress being made, so you can e.g. inform us if you want thinner or thicker braids, etc.
After all, we are only satisfied when you are.
Affiliate producten
Shine Up Shampoo 1250 ml




Herstelt de inwendige structuur van uw haar daar waar het nodig is. Het versterkt de weerstand en zorgt voor meer vitaliteit van het haar. Uw haren zijn luchtig, soepel en hebben meer veerkracht.


Voor: € 55.80



meer info

Mediceuticals Moist-Cyte Hydrating Therapy Conditi



Voor normaal tot vet haar.

Milde reiniging en vitalisatie van het haar en de hoofdhuid.

Voor dagelijks gebruik.


Voor: € 17.50



meer info

Go Clean 3 stuks





Go Clean voor normaal tot droog haar.

Go Clean is een verzorgende shampoo die ervoor zorgt dat het haar soepel wordt en makkelijk in model te brengen is. Go Clean geeft het haar een natuurlijke glans.




Voor: € 45.00



meer info

Forming Cream 85 gram





Medium Stevigheid - Medium Glans

Forming Cream geeft elk type haar en lengte een medium fixatie, lichte glans en een natuurlijke look.

Ondanks de optimale stevigheid blijft het haar modelleerbaar.

Forming Cream is eenvoudig aan te brengen door de soepele textuur.

Het product verspreidt zich gemakkelijk en gelijkmatig door het haar. Bovendien heeft het product een mannelijke en aangename geur.

American Crew, Official Supplier to Men


Lanolinewas                 
Bevochtiger die zorgt voor een ongekende fixatie.

PVP copolymeer         
Een fixeermiddel dat het haar extra stevigheid, body en volume geeft.




Voor: € 16.50



meer info

Volumatte Volumising Powder 20 ml





Volumatte Volumising Powder.

Volumegevend en verdikkingspoeder.

Geavanceerd styling poeder dat direct volume en vering aan fijn, dunner wordend en futloos haar geeft.

Een ultralift en een super matte finish. Toegevoegde proteine dringen diep door in het haar en geven volume en kracht!

LS&B Grooming, Men Only !!







Voor: € 27.95



meer info